Customer Satisfaction at H2H Level
Regardless of whatever the structure of your business – business-to-business (B2B) or business-to-consumer (B2C) organization, it's about creating human-to-human (H2H) connections.
H2H approach is relevant to any type or size of business. Even if you are a start-up, an established or an ecommerce business, it's a human on the other side of the computer writing marketing copy by convincing another human to buy something. Until the rise of the robot overlords, people buy from other people. Start-up can run a needs assessment survey to assess the real need of their products or services. The top reason startups fail is not because of lack of cash. According to experts, 42 percent of startups fail because there isn't a real market need for their products. Similarly, many product launches flop because they fail to ask a crucial question: Who will buy this and at what price? Companies and products don't succeed because of lack of intelligence on what customers actually need.
Building relationships with customers
Customer satisfaction is key in creating a long-term relationship with your customers. If you think back to the dating analogy, going through the sales process is just like wooing your prospect to turn them into a customer.
But keeping a long term relationship functioning is hard work. You need to keep delivering value time and time again. You need to keep your customer satisfied.
Ongoing satisfaction leads to loyalty. Once customers have placed trust in a company and are assured that the company will continue to deliver they will continue to do business with them.
Loyalty is a worthy goal to shoot for –  the White House Office of Consumer Affairs estimates that loyal customers are worth up to 10 times their initial purchase value.
The Feedback of Customer Satisfaction
If customer satisfaction is the goal, then constant feedback is the best way to improve over time. You need to measure customer satisfaction in order to improve it. There are a few ways to measure customer satisfaction, but the most common and effective ways are to simply ask your customer.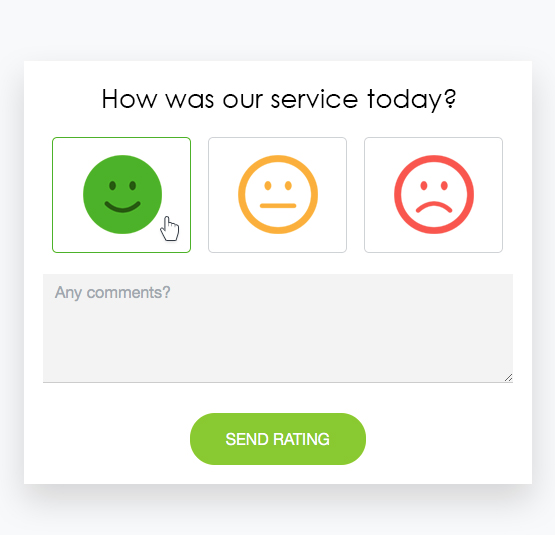 Happy Customers means Happier Employees
No one likes being yelled at. It's just not a fun situation to be in. Agents who routinely have to deal with upset customers can find their job draining. It's even worse if your agents aren't empowered to resolve the situation. Instead of feeling like part of the solution, your team will feel like a barricade between your customers and the rest of the business. When agents feel drained, uninspired and ineffective, they don't tend to stay in their jobs for very long.
Create customer satisfaction survey today!